Top 10 Ferrari Watches Reviews — Consider Your Choice in 2019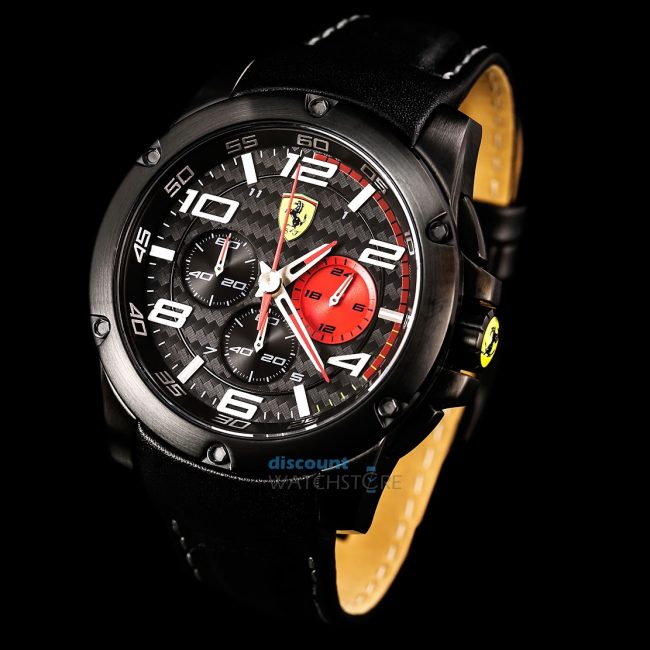 What happens when world's best engineers meet the finest fashion experts? Ferrari watches are a classic example of what the relationship between these two can produce. With a wide range of designs to choose from, each timepiece seems to mimic the sophistication of an F1 engine. Known for being sporty and stylish, do Ferrari watches live up to the hype? We take a closer look.

Ferrari 0830077 Quartz Watch For Men
This Ferrari 0830077 Quartz Watch For Men enjoys the protection of a black ion-plated stainless steel case, which is further enhanced by durable mineral crystals keeping the timepiece safe from scratches. For busy folks who would like to get more precise data, the watch has a date display window, seconds timekeeper and stop watch. If you are an outdoor person or generally a person who likes to get dirty or go out fishing, you will be glad to learn that this unit has water resistance that lasts up to 165 feet (50 meters). From a glance, this gents' watch is clear proof of rich heritage and European pedigree. Its very design and precise engine not only introduce a wave of excitement but also deliver a touch of time-honored style.
Like other Ferrari watches, this one delivers uncompromising reliability and performance while paying tribute to the globally reputed F1 racing team's signature colors
44 mm stainless steel case fully equipped with a fully functioning checkered dial window (with 3 subdials)
High quality silicone band with excellent buckle closure and contrasting center stripe
Luminous intercorsa chronograph, perfected with eye-catching red accents
Scratch resistant mineral crystals alongside hi-tech composite casing
Powered by quartz engine
Clasp buckle providing a perfect fit
back to menu ↑
Ferrari Men's 0830160 Black & Red Watch
The Ferrari 0830160 is watch to be won with pride especially among men who are always out there doing their best to achieve exceptional things in life. With a case diameter of 43mm and weighing slightly over 2 ounces, this standard watch promises to take the word convenience to a whole new level. Its red stick markers tower upon the Prancing Horse logo beneath a seamless crystal. There is a date window, a silicone band, firm buckle closer and a dial allowing for multiple sub-dials. Perhaps the most impressive thing about this innovation is its water-tight security. If you are a diver or fisherman, you can actually go as deep as 165 feet (50 meters) without worrying about this getting damaged. That's the kind of re-assurance you get when you use Ferrari watches.
Matte finish casing with screw-in backs constructed from stainless steel and thermoplastic polymer
Enhanced with an integrated strap that is firmly secured by shield-shaped keepers and metallic buckle
Has etched racing shield which unites a high degree of comfort with a bit of masculine detailing
Fully clear, clean and scratch-resistant mineral crystals to complement high-tech composite casing
Delivers uncompromising performance with incredible reliability and unquestionable precision
Date window located just above the 6 o'clock hour mark for easy checking even when wearing a long-sleeved shirt
back to menu ↑
Ferrari 0830017 Chrono Watch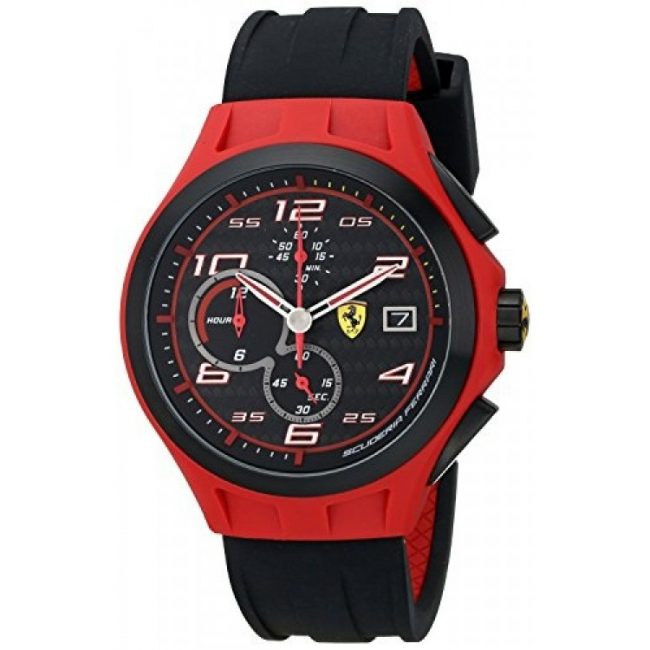 Designed with a fixed black ion-plated bezel against the backdrop of carbon fiber dial and a red plastic case, this Ferrari 0830017 Watch stands out as a high-end timepiece for a casual lifestyle. The model is 14mm high and 44mm across creating just enough space for precisely sized index hour markers and Arabic numerals. To add to the magnificence of these Ferrari watches are red accents with a mild silver tone for improved readability. To top it up, a date display window is provided at the 3 o'clock position. One thing that stands out about this watch's design is its textured push, which apart from looking good is clearly tough enough for an active life. Holding the watch perfectly in place is a black rubber strap, which is further held in place by a well thought-out metallic buckle clasp. Its surface if protected by a smooth mineral crystal, which is purposely, designed to withstand the impact of scratch without leaving permanent marks. Beneath this beautiful set up of Ferrari watches is a powerful engine that is powered by VK67A quartz mechanism. To crown it all up, this remains one of the mighty Ferrari watches capable of resisting the impact of water damage for up to 165 feet.
Fitted with a rubber strap which is enhanced with black carbon fiber, however unlike its other siblings, this band is not extensively textured (black in color)
Its case material is made of high quality plastic/resin and its dial of black carbon fiber
Chronograph quartz movement powered by Japanese Quartz (battery)
Silver-tone luminous pencil shaped hour, minute and seconds hands
Ion-plated bezel with function pushers complete with a pin buckle for security
Protected by a 2 year limited warranty
Push and pull crown
Clasp buckle
back to menu ↑
Ferrari XX Kers Casual Watch
If you are looking for a watch that suits multiple occasions and settings, the XX Kers model might just be the right deal for you. Known as the "epitome of casual Ferrari watches", this timepiece would go well with any button-down trousers or business suit. Looking for bigger and thicker Ferrari watches? This one offers about 10mm more width and 1+ mm thickness than other models. Not only does that make it a durable option but also makes it cool and well refined. Beneath a scratch-resistant crystal lies applied indexes that perfectly contribute to a casual look and feel. Its red details are quite noticeable introducing a much-needed contrast to what would have been otherwise a boring, black dial. You will also find 3 sub dials which give extra details in a font pretty similar to what is available on a real Ferrari's dashboard. Given that this watch has enough shades of black, it tends to stand out with its robust look making it just the perfect choice for formal and informal events. The very structure of Ferrari watches Kers 0830310 presents an ideal blend of simplicity and gallant life all thanks to a bold guise and tough makeup. Heading for outdoor fun? This timepiece's dial is protected by a mineral crystal. That's of course in addition to the fact that it has a water resistance rating of 5 atm/ 165 feet or 50 meters. Beneath all this is an incredibly reliable Japanese-Quartz engine that requires minimal upkeep.
Boasts a 50mm stainless steel case with a thickness of 15mm to ensure its durability.
Being one of the of the greatFerrari watches, it is powered by sporty 3 hand engine that ensures its high performance.
Comes with a thick and durable branded silicone strap that is black in color with dual air holes near the clock for everyday wear or activity.
Its strap is 24mm wide while its length is the men's standard with a clasp to ensure the watch stays in place thereby delivering uncompromising performance as well as reliability.
Like most Ferrari watches, this timepiece incorporates mineral dial window that is scratch proof and accompanied by stationary metal bezel.
Uses military time 24 hour indicator while boasting second hand feature and analog display type.
Weighs 4.6 ounces only with three sub-dials and day/date indicator located at two of the sub-dials.
back to menu ↑
Ferrari 0830166 Aero Evo Watch
Why not grab the opportunity of fulfilling your dream of driving a Ferrari car by simply owning the Ferrari watches? Made from hi-tech materials, this timepiece is quite similar to a Ferrari race car. It is durable with an elegant look especially with the Ferrari logo that is conspicuously placed against the dial and also leaves up to the reputation of Ferrari watches in terms of reliability and performance. In addition, it is waterproof so in case you get caught in the rain while wearing it or you go under water up to 50 meters 165 feet, the watch will still show time accurately. And adding to its "must have' feature is its durable mineral crystal dial window that protects Ferrari 0830166 Aero Evo Watch against scratches thereby ensuring it looks as good as new in years to come.
Features a chronograph function with special features like tachymeter markings that are located on the rim of the black dial and measures seconds.
Powered by quartz movement with a stationary stainless steel bezel function.
Has an elegant black dial with hour markings, minute markings and red accents which can be clearly seen via the scratch resistant crystal.
Ferrari watches come with a 46 mm wide case that is made from durable stainless steel material and measuring 13 mm thick.
The dial boasts some other three sub dials with date display located between the four o'clock and five o'clock positions
24 mm wide stylish black band made from leather with a well built clasp buckle for perfect fit.
Weighs 3.84 ounces hence comfortable to wear.
back to menu ↑
Ferrari Men's 0830093 Scunderia Watch
If you are looking for a great men's watch that is inexpensive while delivering the same great performance as that of expensive brands, Ferrari Men's 0830093 Scunderia Watch is a good deal. Combining attractiveness with great functionality which is an representation of the famous Scuderia Ferrari, this all black watch can be easily worn to both formal and casual occasions. It boasts a big analog display face in black which displays time clearly. It has a day/date display at three o'clock with a black case and strap. However, despite having a minimalist design and monotonous color tone, this timepiece has an elegant look which makes it one of the most powerful  Ferrari watches any modern man could possibly want to have. Being powered by quartz movement which helps in keeping accurate time, the Ferrari Men's 0830093 Scunderia Watch always delivers great performance and reliability.
It is resistant against water up to depths of 165 feet or 50 meters.
Incorporates a 44 mm stainless steel case in diameter and 12 mm in thickness round in shape.
Encasing the face of this timepiece is a mineral crystal dial window that protects the dial against all forms of scratches.
Simple black dial with stainless steel bezel that is non-winding.
Black band that measures 22 mm wide and men's standard length made from durable calfskin leather material with a secure clasp buckle and this makes it extremely masculine in appearance.
Features luminescent hands and time markers as well as a Ferrari Logo that is exhibited against the dial.
back to menu ↑
Ferrari Men's 0830304 Casual Watch
In case your collection does not have a resin casual watch that has a sporty feel, then you should consider investing in this timepiece during your next purchase. With Ferrari Men's 0830304 Casual Watch you can feel as an F1 driver racing around the race-track as it is one of the greatest Ferrari watches in the market. It has a classic look that adds to its timeless appeal and time keeping is done with the use of the famous quartz movement. Therefore, you can definitely wear this timepiece several years into the future and still look elegant. The dial is black and features some other three sub dials and stationary resin bezel. And who in their right mind would not be extremely proud to wear a timepiece that is emblazoned with the Ferrari logo against its dial-window?
Boasts branded silicone band measuring 25.5 mm wide with deploying clasp to ensure the watch stays in place securely.
The dial window features a mineral crystal that is durable and scratch resistant.
Has date display located at the three o'clock position and uses analog display type.
It is water proof up-to 165 feet while being powered by its sporty 3 hand engine.
Well built resin case that measures 46 mm in diameter and 11.7 mm in thickness thereby ensuring durability of the watch.
back to menu ↑
Ferrari Men's 0830158 Watch
Finding the Ferrari watches at affordable prices can sometimes be a hustle with so many options to choose from. So if you are on a budget and would like to own a reliable, elegant and durable watch from one of the best and well-known brand on the market, consider buying this Ferrari Men's 0830158 Watch. The best thing about this watch is the fact that it is very lightweight weighing only 1.1 pounds and can easily be worn by simply adjusting the strap. The watch captures all the great thrills of race day by incorporating classic case design that has been inspired by the air intakes on a racing car. In addition, it boasts great water proof capabilities up to depths of 165 feet or 50 meters while being powered by quartz movement for accurate time keeping. Therefore, buying this Ferrari Men's 0830158 Watch will definitely provide an upgrade to the Ferrari watches you already own at a very friendly cost.
Round sporty watch with checkered stamp-textured dial and rubber capped crown
46 mm plastic case making it durable and presentable
Yellow stick indices for easy reading
Quartz movement along with analog display
Silicone band with buckle closure and yellow accents
Rated as water resistant for up to 165 ft (50 meters)
Proudly displays the Racing Shield logo clearly showcasing the iconic Ferrari racing colors
3 hand strap Ferrari watches featuring a racing shield keeper and metallic tongue buckle
TR90/steel core with high-tech thermoplastic casing keeping it lightweight yet authentically rich
Protected by 2 years limited warranty
Precise quartz engine (with analog display) that requires minimal maintenance
back to menu ↑
Ferrari 0830023 Race Day Watch
Fans of the reputed prancing horse that's typical of Ferrari's racing brand are sure to fall in love with this sporty chronograph wristwatch. Generously displaying the Ferrari Logo, Ferrari 0830023 Race Day Watch timepiece boasts three handed Quartz power. The Ferrari watches' reliability is improved even further by a contrasting tachymeter scale, silver baton indices, and a highly accurate date window conveniently located at the 5 O'clock hour position for easy reading. Rated water resistant for up to 165 feet (or 50 meters), the stylish watch is protected by a two-year warranty. That's of course in addition to the fact that traditionally, Ferrari watches are known to have advanced features like scratch-resistant crystal window and well-built straps. Whether you are old, middle-aged or a teenager, adorning the striking, yet stylish watch is a sure-fire way to enhance your style. This can be worn when one is heading out for an exploration mission in the bush, DIY venture or just as an everyday watch. Alternatively, it can be worn on a busy night out with the boys or when one wants to look and feel sporty.
Set on the backdrop of Carbon Fibre Dial
Firmly built and protected by a 46mm wide case which further has a 10mm depth
Well-designed date aperture conveniently located at the 5 o'clock spot for easy reading
Each unit comes with a free Gift Box from Scuderia Ferrari
Two-toned rubber strap with stainless steel case that is rubber coated for extra security
Three chronograph sub-dials placed against a black textured dial
Rated as water resistant for up to 165 feet (50 meters) and to top it up, it is backed by 2-year warranty
Powered by Japanese Quartz movement
Analog display technology, black in color
back to menu ↑
Ferrari Men's Casual Watch "Formula Italia S" (0830317)
A luxurious watch such as this one demands special recognition. Not only is it great as a fashion statement but it adds a lifetime treasure to any timepiece collection. This is actually one of the few Ferrari watches that are meant for mostly a classy style. This is evident from the very start when you look at its dapper stainless steel band that's made of high-quality metal which is extremely durable. A closer look at these Ferrari Men's 'Formula Italia S' Quartz Stainless Steel Casual Watch reveals that they are all cased within a 46mm stainless steel which besides being supremely durable is also highly refined. A peek through a scratch-resistant crystal revels a smooth black dial which introduces a dashing demeanor adding a sophisticated flair to the entire piece. The "Formula Italia S" is a show-stopper – one that is sure to make you stand out even in the midst of a crowd. But there is more to this watch than just looks. It relies on Japanese quartz movement which ensures accuracy and precision. The machine is also rated water resistant for up to 165 feet, 5atm or 50 meters. That means a splash or a shallow dive (like in a swimming pool) wouldn't risk its functionality. So this accessory not only boasts dapper countenance but it's time-tested performance is to die for as well. Everything, from its logo format to its finish and movement is above-board.
The watch has 3 sub-dials emerging upon a pitch black main dial
Legendary Ferrari logo appears the 3 o'clock spot all grand in its silvery brown color
Sporty chronograph engine powered by the precise Japanese quartz movement
Durable stainless steel material used to protect the entire accessory giving it long-life
Scratch-resistant mineral crystal
Rated water resistant for up to 165 feet
Protected by a 2-year manufacturer warranty
Deployed clasp to back up a two-tone stainless steel band (the band width of 24 millimeters with the length being rated as men's standard)
Shopping Tips for Buying Ferrari Watches
A quality watch is not just a tool that shows time. To any man, a watch is a symbol of class, taste, and even social status. Clearly, any man can afford to buy a watch. But when it comes to Ferrari watches you have to be very clear on what you want to get in order to get the very best.
First, it is important to understand that most Ferrari watches we have discussed in this article are priced at $150 on average. According to watch rankings, this category mainly comprises of high-end consumer watches. Avoid buying watches who price tag is too below this mark. A cheap price usually indicates that either the watch is fake or it's made using weak and unreliable technology. As such, when purchasing Ferrari watches, it is imperative to trust reputable dealers and companies.
Your lifestyle is the best way to determine which watch to go for. If you are a typical office person who spends the most time in business meetings and travel, then a watch that's classic with a luxurious touch like the 0830317 would be ideal. However, if you are an outdoor person who is always getting dirty and dangerous out there, then a watch with a silicone band would be ideal.
Competition
As good as they are, different Ferrari watches have different strengths and weaknesses. But given factors like design, class, and value for money, it is quite possible to identify the best from the rest. Our top choice is Ferrari Men's Casual Watch "Formula Italia S" (0830317) due to its innate ability to provide a solution whether during formal or casual events. The watch is fully made of stainless steel, which is known for being durable and incredibly reliable. With all that, this unit still rivals for space against other close competitors like the Ferrari 0830166 Aero Evo and Ferrari 0830017.
Sources: