25 Gorgeous Wingtip Shoes Designs – For All Different Tastes
Still wearing that old, beat up a pair of shoes? It's time to upgrade to wingtip shoes – a classic pair of shoes that is both decorative and protective. This low-heel shoe is usually characterized by decorative perforations and sturdy leather uppers. Sometimes known as full brogues, they sport a pointed toe cap with extensions that create a "W" wing shape. These shoes sport serrated edges that make them a stylish option for casual or business wear.
Full brogues come in two different styles – perforated toecap and plain toe cap. Those with perforations are known as "austerity brogues" while those without are referred to as "blind brogues". They come in many different color combinations to suit different tastes and fashion.
Contents:
History of the Design
Modern wingtip shoes trace their roots to a makeshift shoe that originated in Ireland. Back then, the shoes were made using untanned hide and sported small perforations specially designed to drain water in wet terrains. Wingtip footwear was meant for outdoor use due to their rugged design. Unlike today, they were considered inappropriate for business or casual wear. The shoes slowly evolved with time to feature classic styles, such as the full brogue oxford dress shoes. Wingtip footwear has now become the shoes of choice for most men across the world owing to their timeless, contemporary design.
Common Brands
There are many different brands that specialize in the manufacture of wingtip shoes. The competition is stiff among the different brands and each tries its best to outdo the others in terms of design, quality and customer service. Everybody desires a high-quality pair of shoes and wingtip footwear are no exception.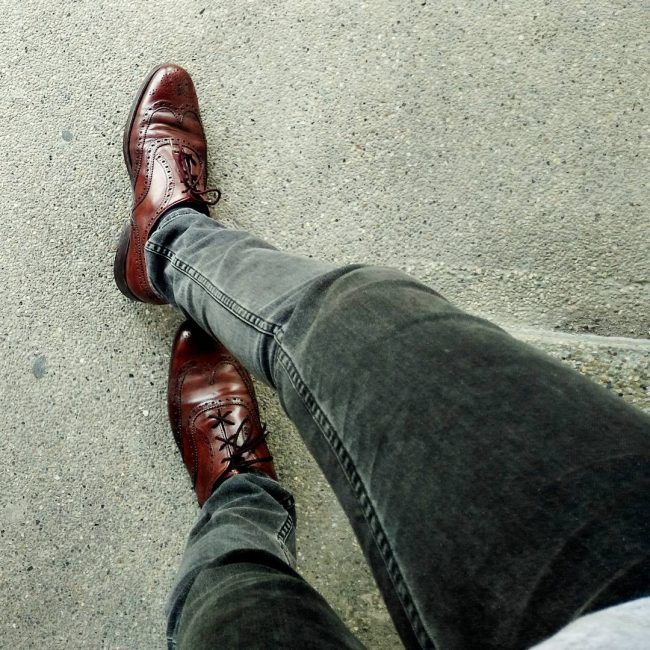 Source
Therefore it makes sense to go for top brands that have withstood the test of time and met or exceeded customer expectations. But how do you know the top brands from the multiple options available on the market? Well, that shouldn't worry you since I've got you covered. Below is a quick review of the top brands whose quality and design is worth every penny spend. Read more and decide which brand appeals to you most in terms of quality, design, and affordability.
Dockers
This brand specializes in the manufacture of shoes and other apparels. Founded in 1896, Dockers is dedicated to producing high-quality shoes designed for the casual business style. Headquartered in San Francisco, California, the brand has expanded its business into many different countries. Dockers' wingtip footwear come in the following styles:
* Premium Beacon Wingtip Oxford
* Mortiz Wingtip Oxford
The shoes come in black and dark tan. They retail from $34.99 – $135.00.
Florsheim
Florsheim shoe brand was founded in 1892. Headquartered in Glendale, Wisconsin, its line of full brogues have become a common feature in almost every mall in the United States. Florsheim shoes have a stylish, unusual distinction that has made them one of the top choices for men across the world. Its line of wingtip footwear come in the following styles:
* Westwood
* Eunice
* Bremen
* Quadrant
* Brooklyn
* Antonia
* Gespard
Florsheim wingtip footwear retail at a price range of $78.00 – $179.00.
Source
Cole Haan
This is a global lifestyle brand that focuses on footwear and accessories. The brand was founded in 1928 and is headquartered in Greenland, New Hampshire. The brand's wingtip footwear comes in the form of shoes, loafers, and boots. They sport deep, serrated edges that make them unique in their own way. Cole Haan has many different styles of wingtip footwear. They include the following:
* ZEROGRAND Wingtip
* Washington Grand Wingtip
* Original Grand Wingtip
* Briscoe Wingtip
* Hamilton Grand Wingtip
* Harrison Grand Wingtip
* Warren Wingtip
* Theodore Grand Wingtip
* Jay Grand Wingtip
* Maine Short Wingtip
* Jagger Wingtip
Cole Haan wingtip footwear comes in many different colors to choose from. They are available in the price range of $44.95 – $400.00.
Nunn Bush
This brand is dedicated to style and quality craftsmanship. The brand has been living its legacy since 1912. Its main styles in wingtip footwear include the following:
* Tj Wingtip Ox
* Nicholas Wingtip Chukka
* Ryan Wingtip
Nunn Bush wingtip footwear retail at a price range of $85.00 – $90.00.
Johnston & Murphy
This is a U.S. footwear and clothing brand founded in 1850. Headquartered in Nashville, TN, the brand serves 91 countries besides the U.S. The brand has many different styles in wingtip footwear. They include the following:
* Deerfield Tassel Wingtip
* Conard Wingtip
* Tabor Wingtip
* Jennings Wingtip
* Fulton Wingtip
* Hannigan Wingtip
* Waverly Wingtip
* Greenwich Wingtip
* Campton Wingtip
* Eldredge Wingtip
* Allister Wingtip
* Collins Wingtip
* Conley II Wingtip
* Stratton Wingtip, e.t.c
The list of styles is quite endless. Johnston & Murphy wingtip footwear are available in the price range of $99.99 – $475.00.
Rockport
This company specializes in the manufacture of shoes. It was founded in 1971 and is headquartered in Canton, Massachusetts. The brand has different styles of wingtip footwear under its name. They include the following:
* Zalee Wingtip Lace-Up
* truWALKzero Wingtip
* Total Motion Wingtip
* Style Wingtip
* REVdare Wingtip
* Grayson Wingtip
* Famke Wingtip
* dresSports Wingtip
* Essential Details Wingtip
* City Smart Wingtip
* Almartin Wingtip
* Classic Break Wingtip
Rockport wingtip footwear retail at a price range of $39.99 – $150.00.
Liberty
This Indian manufacturer dedicates itself to producing reliable, comfortable and durable footwear for both adults and kids. The company was founded in 1954 and is headquartered in Karnal, Haryana. Liberty wingtip footwear comes in one major style – Fortune Wingtip. The style sports classic styling and retails at an average price of $54.99.
Stacy Adams
This brand was founded way back in 1895. It specializes in the manufacture of menswear that sports modern and casual styles. The different styles of wingtip shoes manufactured by Stacy Adams include the following:
* Dayton
* Atticus
* Wardell
* Garrison
* Madison II
* Goldwyn
* Stratford
* Galletti
* Arrico
* Melville
* Maximillian
* Rayburn
Stacy Adams wingtip footwear are available at a price range of $49.90 – $160.00.
ECCO
This is a Danish shoe manufacturer founded in 1963. The brand dedicates itself to providing innovative footwear for both men and women. Headquartered in Bredebro, Denmark, it has a wingtip footwear style called Atlanta Wingtip. This wingtip footwear retails at a price range of $61.98 – $210.00.
Wingtip shoes are the better choice for those looking for a perfect balance of durability, comfort, and protection. They are virtually timeless and can provide a stylish addition to your wardrobe. Search the internet to access the brand you want and experience the style and elegance that comes with wingtip footwear. The shoes can be purchased directly from the official websites of the specific brands. Alternatively, you can choose to purchase them at Amazon where they are available at discounted prices. Get one for yourself or loved one and embrace the holiday season in style. Happy time shopping!